Dog and Equine Photography​
CAPTURING MOMENTS FROM TODAY, CREATING MEMORIES FOR A LIFETIME…
DOG AND EQUINE PHOT0GRAPHY IN ABERDEEN AND THE SHIRE
My aim is to capture emotions, forever lasting memories and create images that will become more precious and valuable over time.
I love animals and photography and hope that the enthusiasm I feel for every photo session comes across in my photographs. No two animals are the same, and that's why every session is tailored to you and your animal. I want you to enjoy the experience, leave with beautiful images you will love and treasure forever and stunning artwork to display in your home.

Why choose me?
CHOOSING THE RIGHT PHOTOGRAPHER CAN BE A DIFFICULT DECISION…
Dog and Equine Photography is not just a job for me, it's my biggest passion!
I love every single session and animal that I have the honour of photographing!
If you choose me, you will receive a friendly, relaxed and fun, full-service photography experience, which means that I take care of everything from planning the session, through to the delivery of your prints and wall portraits, all you have to do is enjoy the experience.
With me you also get the peace of mind, knowing that I have owned and worked with dogs and horses pretty much all my life. I can anticipate their behaviour, have bags of patience, and will work with you and your animal to capture stunning photographs you will love forever.
If I am 'the one' for you, please head over to my contact page and get in touch, I'd love to hear all about you and your furry friend.
Let's create forever lasting memories
Get in touch to book your complementary consultation

Are you worried that your dog or horse isn't well enough behaved to be photographed…​
Don't be! I promise you that I successfully photograph hyper, bouncy and even nervous dogs and horses ALL the time. I guarantee that we'll be able to create images that you love!
Here's a secret: A lot of the dogs and horses you see on my website were wearing leads during our session. After some Photoshop magic, voila suddenly the lead or lead rope disappears! We can even use a special long line or lunge to safely create action shots if your dog or horse can't be loose.
And with my arsenal of noises and squeaks, I know how to get your animals' attention and make you laugh at the same time.
You let me know what kind of images you love, and I'll bring the tools and the know-how to create them for you!  Get in touch to find out more!
Head over to my FAQ's, to see some of the most frequently asked questions.
Is this right for me?​​ I hear you ask.
A dog and equine photo session is an investment of both time and money, that's why I think it's important to make the right choice for yourself.
Our animals are cherished family members. They're loved to the moon and back, and often even get away with much more cheekiness than their human counterparts…
My clients have one thing in common – they all love their animals dearly and want to celebrate them through stunning images, artwork, and heirloom pieces.
How much you spend is entirely up to you and you don't have to make any decisions until you've seen your images!
Most of my clients spend between £250 and £1500 on their sessions and products.
Head over to my FAQ's, to see some of the most frequently asked questions.
Not quite convinced?
Check out my Dog and Equine Photography gallery and the FAQs

My own pride and joy
Sam – a Dutch Warmblood gelding, born in 2004…
I bought Sam together with my mum as a 3-year-old stallion, the plan was to back him and then sell him. That obviously didn't quite work out… I fell in love with his kind eyes and gentle nature as soon as I saw him!
Before moving to Scotland we lived in the Netherlands and competed at the Dutch equivalent of advanced medium dressage. Sam loved competing, always gave it his all, and has an impressive collection of ribbons to show for.
​He now lives quite a different lifestyle – changed days from the pampered dressage horse to a hairy happy hacker who loves living out 24/7.

Testimonials
Will you be my next happy client?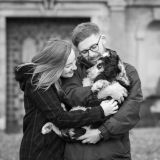 Ralphie
Rebecca and Andrew
I could not recommend Iska enough. She photographed our furbaby Ralphie as a puppy and at a year old. It's hard to convey in words just how beautiful the images that Iska took are! Iska is lovely and easy to get along with, we really gelled with her and have now even booked her for our wedding!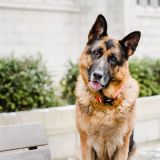 Eddie
Lisa Harris
Iska is a fantastic photographer, she made the process great fun from start to finish. I have used her for both equine and dog sessions and the ideas she has are brilliant. Most recently she photographed my German Shepherd Eddie in Aberdeen and the photos are beautiful.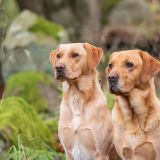 Jacqui Taylor
Dog Photography
I booked Iska for a photoshoot with my two labs as a surprise Christmas gift for my husband. The session was a fab experience, loved it… and the dogs had great fun too. Iska had great ideas and the results were stunning. There were so many fantastic photos. Iska managed to capture my dogs very different personalities perfectly – I felt a little emotional when I saw our 30×30 inch multi-aperture frame. It's beautiful. She's an incredible talent – I'll be booking another session when I add to my pack!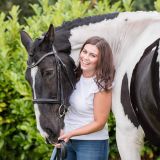 Buster
Kate and Tamzin Marshall
My daughter Tamzin and I had the pleasure of seeing Iska working her magic during our photo session with our horse Buster. We would certainly recommend Iska, she is a very professional and talented photographer, lots of patience too. We just adore the photos she took of our boy Buster.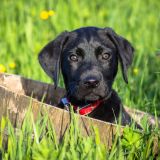 Monty
Ann Falkoner
Iska has the patience of a saint and her love for animals certainly comes across in her work. Iska took photographs of my young puppy and she was so creative which resulted in amazing photographs. She also took some of my older little dog who wasn't really interested but the results were fantastic. In fact I ordered an aluminium panel which took me breath away when it arrived – it was fantastic! The quality of Iska's work is second to none, which is reflected in her conscientious approach and professional attitude. Thoroughly recommend her.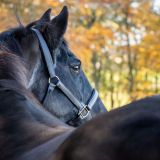 Nikki
Nina Fraser
Highly recommend Iska. She kindly photographed my horse last November. She is professional and friendly and I had so many fantastic images to choose from. If you are considering a professional photoshoot for your horse or dog, please contact Iska and you won't be disappointed.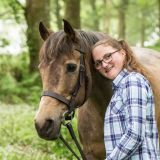 Josie
Claire Milne
We are delighted with the photos Iska took of our pony they are a treasured keep sake , she was both friendly and professional with great attention to detail and she made us feel at ease. Iska is clearly experienced with animals and knew how to get the best from them and their owners.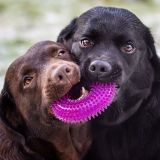 Jennifer Brown
Dog Photography
Iska had the ultimate challenge photographing my labradors (all five of them) on a snowy day in December. She captured some amazing images which I will now treasure for years to come. It's clear to see how much time and dedication she puts into her work from the unique quality of her photographs. Extremely professional service who I would highly recommend.