About Iska Birnie Photography
Award-winning Brand, Wedding, and Dog & Equine Photography in Aberdeen, Aberdeenshire, and beyond.
Hi, my name is Iska Birnie, and I am – you guessed it – the woman behind the camera at Iska Birnie Photography! I am an award-winning professional photographer based just outside Aberdeen in the beautiful northeast corner of Scotland.
Since 2017, I have been working with amazing people like you around Scotland and beyond, offering Personal Brand Photography, Wedding Photography, and Dog & Equine Photography.
My biggest passion is helping you feel at your most confident in front of the camera, to capture the real you and create memories for a lifetime.
When I'm not snapping your pictures, you'll usually find me at the yard looking after my horse Sam or spending time with my amazing hubby Chris (a Personal Trainer and Sports Massage Therapist at BWB Fitness and Sports Massage).

I have a superpower…
It can be our little secret!
Picking the right photographer is so important. Especially when you don't feel super comfortable in front of the camera.
I think I could be the one for you, so I'll let you in on a little secret…
I don't like getting my photo taken either!
You might think this is strange – but it's what fuels my passion as a photographer. Because I can relate to how you are feeling!
The most important thing with any photography shoot is ensuring you feel relaxed while I'm snapping away. We will work together to plan every single aspect of your session, so you know exactly what to expect and can be your true self in front of the lens.
I promise that the result will be images that you fall in love with all over again, for many years to come.
So, let's find out if we're a match! Get in touch today and let's talk about creating the perfect photoshoot for you.

My Story
My photography career began because of my love of animals. I've always been a horse and dog-mad girl, who gets excited driving past a field of horses and stops to make friends with every dog I see.
So, it made perfect sense to start my photography career with dog and equine photography.
Giving you forever-lasting memories with your best friends and capturing their personalities on camera is one of the joys of my life. The cuddles and kisses on every shoot are a bonus!
Then, my husband Chris and I got married at the spectacular Logie Country House in August 2016, our wedding photographer was my friend and mentor, the lovely Janie Barclay.
After our wedding, Janie gave me the most incredible opportunity – dipping my toes into wedding photography, to create special days for other couples. It was an honour to work alongside her before she retired in early 2019.
I can't thank Janie enough for everything she and her family have done for me.
Since then, I have fallen in love with personal brand photography. I love helping entrepreneurs own their role as the face of their businesses.
As a small business owner myself, it is so satisfying to watch others grow their confidence and increase their through stunning images.
It is my mission as a brand photographer to provide you with an enjoyable and exceptional experience in front of the camera and your business with timeless brand-defining images.

Want to know more about me?
Fun Facts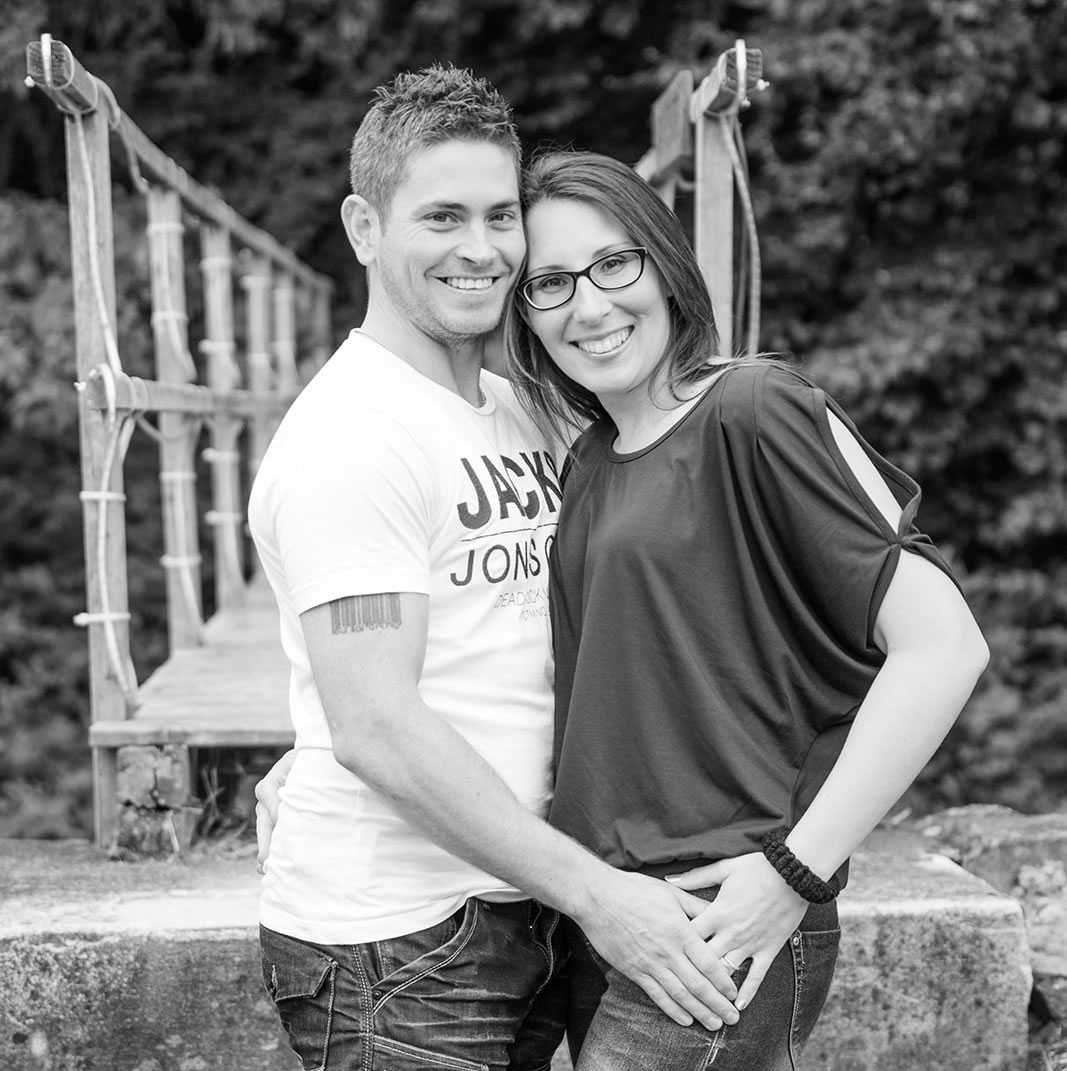 Want to know a bit more about your future photographer?
Well… This is Chris and me only weeks before our wedding in 2016 at Logie Country House.
And here are a few fun facts about me:
I speak German, Dutch, and English
The hubby and I love hill-walking
I'm a trained car mechanic
My favourite TV program is Chicago Fire
I'm a big Formula 1 fan
And I love all furry creatures, especially dogs and horses!
It's your turn now! Let's get to know each other, so we can plan the photoshoot of your dreams.