Darrelle and David's Norwood Hall wedding
WEDDING PHOTOGRAPHY
Darrelle and David's wedding at Norwood Hall was my last wedding (March 2020) before lockdown was announced. It was an emotional rollercoaster for Darrelle and David in the run-up to their big day, even the night before their wedding day, they weren't sure whether it was actually going to go ahead.
Thankfully it did – and what a day it was, all the stress and worries were instantly forgotten and they enjoyed their special day to the max. Keep reading, if you'd like to find out more…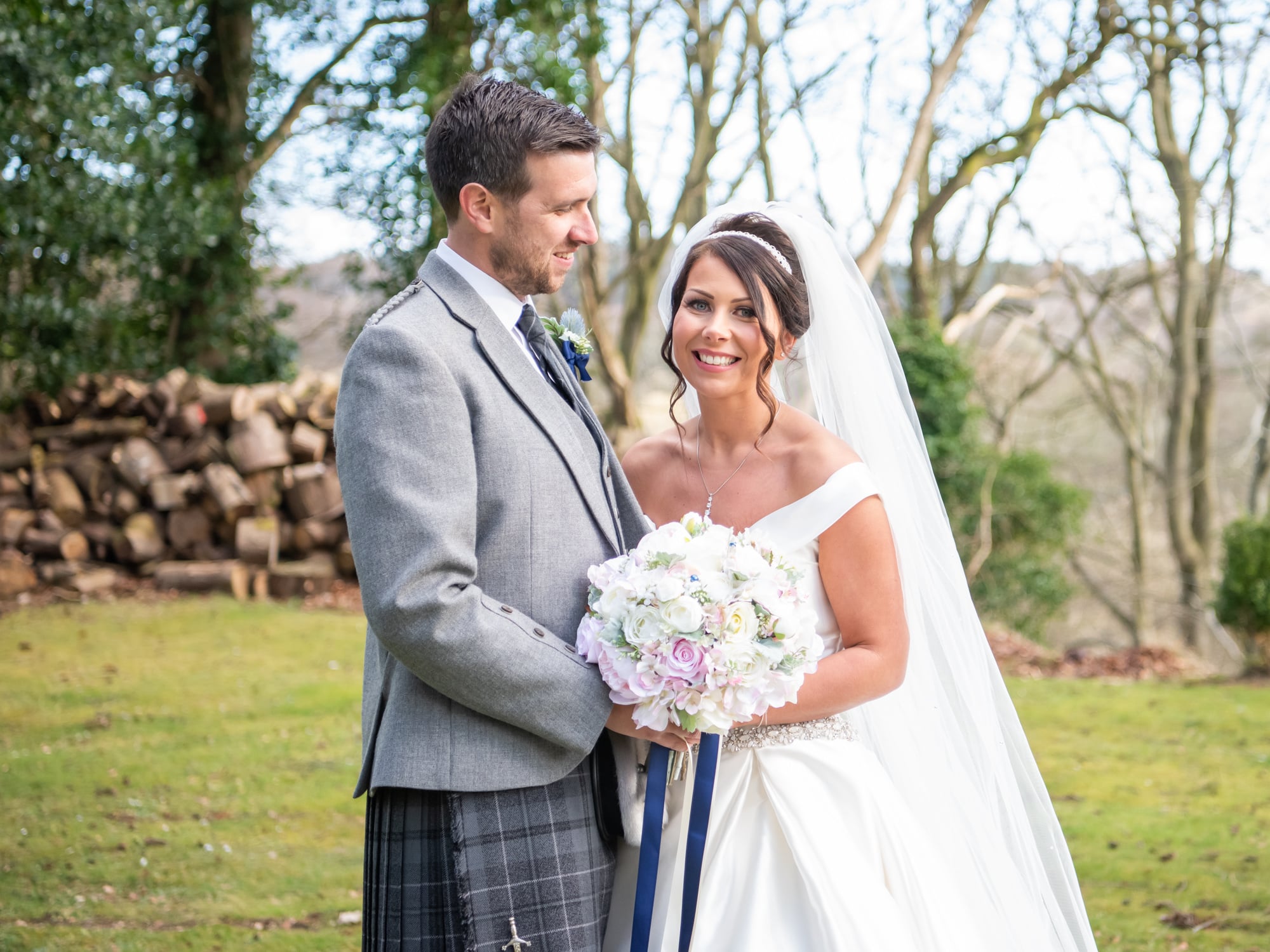 Q. How did you personalise your wedding day?
A. We wanted to make our 2 little boys Dylan and Cameron as much a part of the day as possible, so we got them to decorate the ribbons we were using for handfasting with their own drawings and writing, they loved doing this and we love how the ribbon looked. we also made up our own sweetie table with personalised love heart sweets and bags with our names and dates.
Q. What was the most stressful part when planning your wedding?
A. At the beginning, the most stressful thing was the thought of trying to get our 2-year-old in a kilt, as we couldn't even get him measured without a tantrum – never mind trying it on. So we were a bit worried how he may be on the day, but in the end, both our boys were amazing and our biggest stress the week of the wedding was, that we didn't even know if it would go ahead because of COVID19. There were lots of tears and stress that week and we were waiting in the hotel on the Thursday night for Boris Johnson's announcement to find out if we were going into lockdown or if we could actually get married the next day. Luckily we got our day and it was amazing.
Q. What is the one thing you'll never forget about your big day?
A. The whole day was just perfect and I don't think we will ever forget that we were one of the last weddings before lockdown we feel so lucky.
Q. Was it easy to jump back into regular life after your wedding?
A. We both laughed at this question, as we have jumped into anything but regular life since the wedding, we went straight into lockdown from the Monday and haven't seen any of our friends or family since the wedding, it has been a strange start to married life. This has actually been the longest we have ever spent together, as David normally works away, so being at home together for 8 weeks straight, has been very different. Although it has been nice to have all this family time. I have just been spending my time watching our wedding video by Scott Cassie and constantly looking at our photos. We can't wait to see all our friends and family hopefully soon and maybe get a date night as husband and wife when we are aloud.
Q. What advice would you give future brides and grooms?
A. Don't stress about the small things, on the day it's only the two of you that matter and you won't even care about anything else. Just take a minute to take it all in and enjoy, don't stress about making sure you have spoken to everyone just dance have fun and be married!
Supplier love
Venue | Norwood Hall Hotel
Dress | Etiquette Bridal
Kilts | Millsom and Main
Makeup | Alana McCrae Makeup
Hairdresser | Laurie L Hairdressing
Flowers | Angel K Silk Weddings
Cake | Cakes by Design
Videographer | Scott Cassey Documentary
Second Photographer | Sian Lyon
Thank you very much for visiting my blog! I hope you enjoyed reading Darrelle and David's story and seeing some of my favourite images from their wedding day. If you would like to know more about my wedding photography please get in touch – I'd love to chat.
Lots of Love,
Iska xx