Eve and Ewan's magical beach wedding
LOCKDOWN WEDDING PHOTOGRAPHY
The lovely Eve and Ewan had a big wedding with 100+ guests planned for June 2020, but then lockdown hit and they quickly realised that their original wedding plans could not go ahead. To them, being together and getting married was more important, than a big wedding with loads of guests.
So they adapted their plans and as soon as lockdown measures started to lift, they tied the knot at an intimate ceremony at Embo beach, surrounded by their parents and witnesses. I was honoured to be part of their special day and capture forever lasting memories for them. Keep on reading to find out more about Eve and Ewan's wedding day and to see some of my favourite images.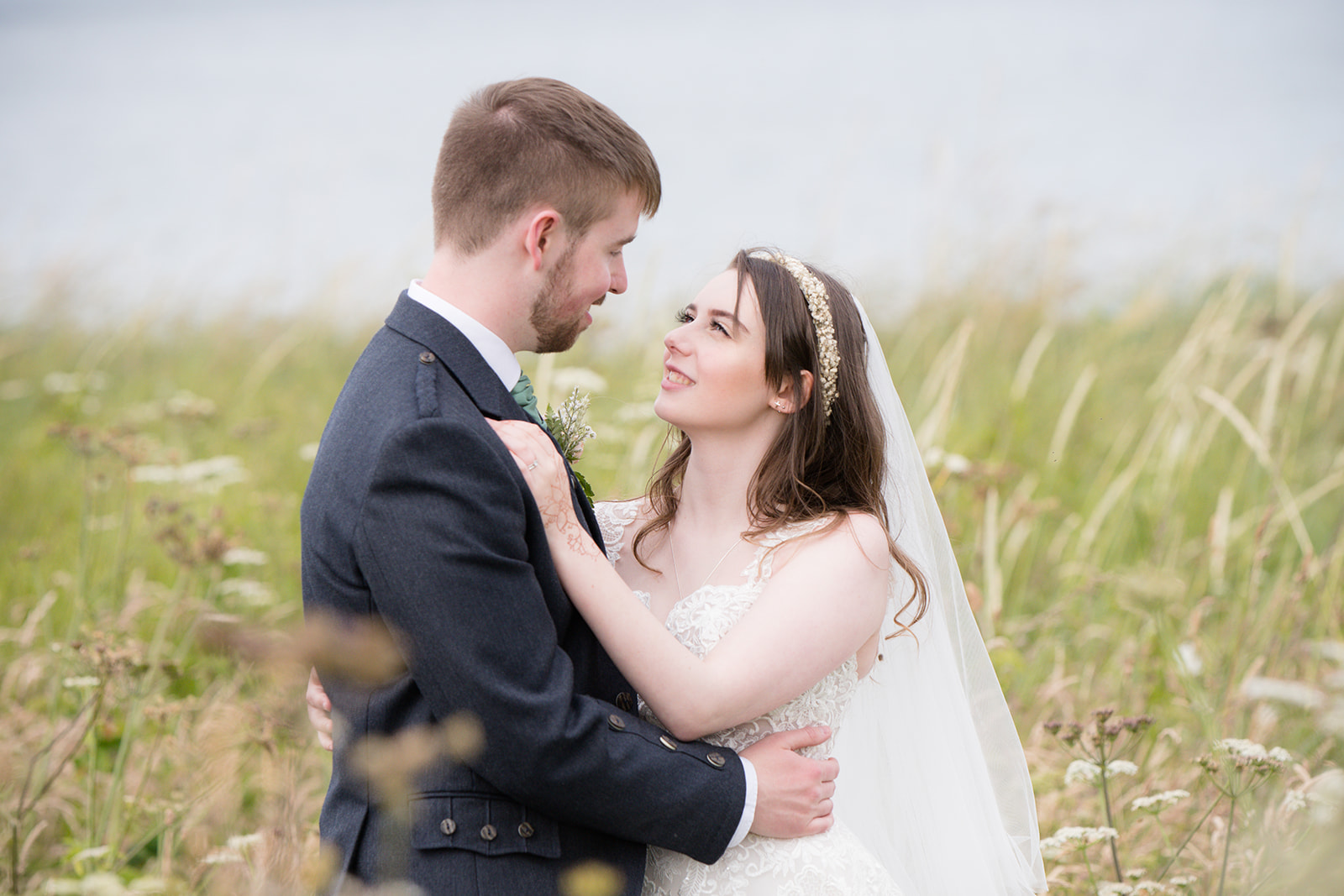 Q. How did you meet each other?
A. We met at the Free Church Youth Conference, but our first date was later that year in June. We went to our favourite café, on a woodland walk and to the beach, that we got married on.
Q. How did the proposal go?
A. Ewan proposed in August 2019 on the same walk we went for our first date.
Q. When did you start planning your wedding?
A. We started planning the wedding in June 2019 (before we were engaged).
Q. Where did you find the inspiration for your wedding day?
A. A lot of the inspiration for our original wedding day was found online and it was inspired by magical woodlands, forests and fairies. However, we had to change our wedding around completely when lockdown happened and we decided on a beach wedding, where we went on our first date.
Q. How did you choose your wedding suppliers?
A. My dress was from Etiquette Bridal in Aberdeen, they were so lovely and I found the most perfect dress that suited me and made me feel beautiful. We chose North Floral Design for the bouquets. The owner Corin went to school with me and her flowers are beautiful! I loved my bouquet, I've have never seen a anything like it.
Our cake was from Milk and Honey in Dornoch, Elisha (the owner of the company) goes to my church and makes THE BEST carrot cake ever! At last but not least, my wonderful dad made our beautiful arch.
Q. How did you personalise your wedding day?
A. The location of the wedding was very special to us, I grew up in Embo and we went there on our first date. Following the ceremony, we had an intimate reception in my parents back garden.
Q. What was the most stressful part when planning your wedding?
A. The most stressful part of planning our wedding was lockdown. We didn't know when we could get married for about three months. Cancelling our original wedding and planning a new one in 29 days is also a challenge.
Q. What is the one thing you'll never forget about your big day?
A. We will never forget the weather. It was such a blessing that we got a beautiful day. We will also never forget the dogs growling throughout the ceremony.
Q. Was it easy to jump back into regular life after your wedding?
A. I personally found it very easy to jump back into regular life, because I did not have to move out. Ewan has found it a little more challenging but overall is enjoying it.
Q. What advice would you give future brides and grooms?
A. Focus on the marriage and not the wedding. A wedding is just one day but marriage is for life! A small wedding can be just as magical as big ones.
Thank you very much for visiting my blog! I hope you enjoyed reading Eve and Ewan's magical beach wedding and seeing some of my favourite images from their wedding day. If you would like to know more about my wedding photography please get in touch – I'd love to chat.
Lots of Love,
Iska xx