Introducing Sam, my horse of a lifetime
MY LOVE OF ANIMALS AS A PHOTOGRAPHER
In my blog posts, I spend a lot of time speaking about my lovely clients and their animals. My equine photo sessions are very special to me. So, I thought it's about time I dedicated a blog post to my own horse Sam – or if we're going by his fancy name: Zephestion!
Sam is a Dutch Warmblood gelding, born in 2004. Which makes him 18-years old this year. My mum and I bought Sam as a 3-year-old stallion, with the plan to break him in and then sell him on. Well, it's safe to say that my cunning plan didn't quite work out… I fell in love with his kind eyes and gentle nature as soon as I saw him for the very first time.
For those of you interested in breeding, Sam is by Metall (Ferro x Ramiro Z) x Bentley x Ulft.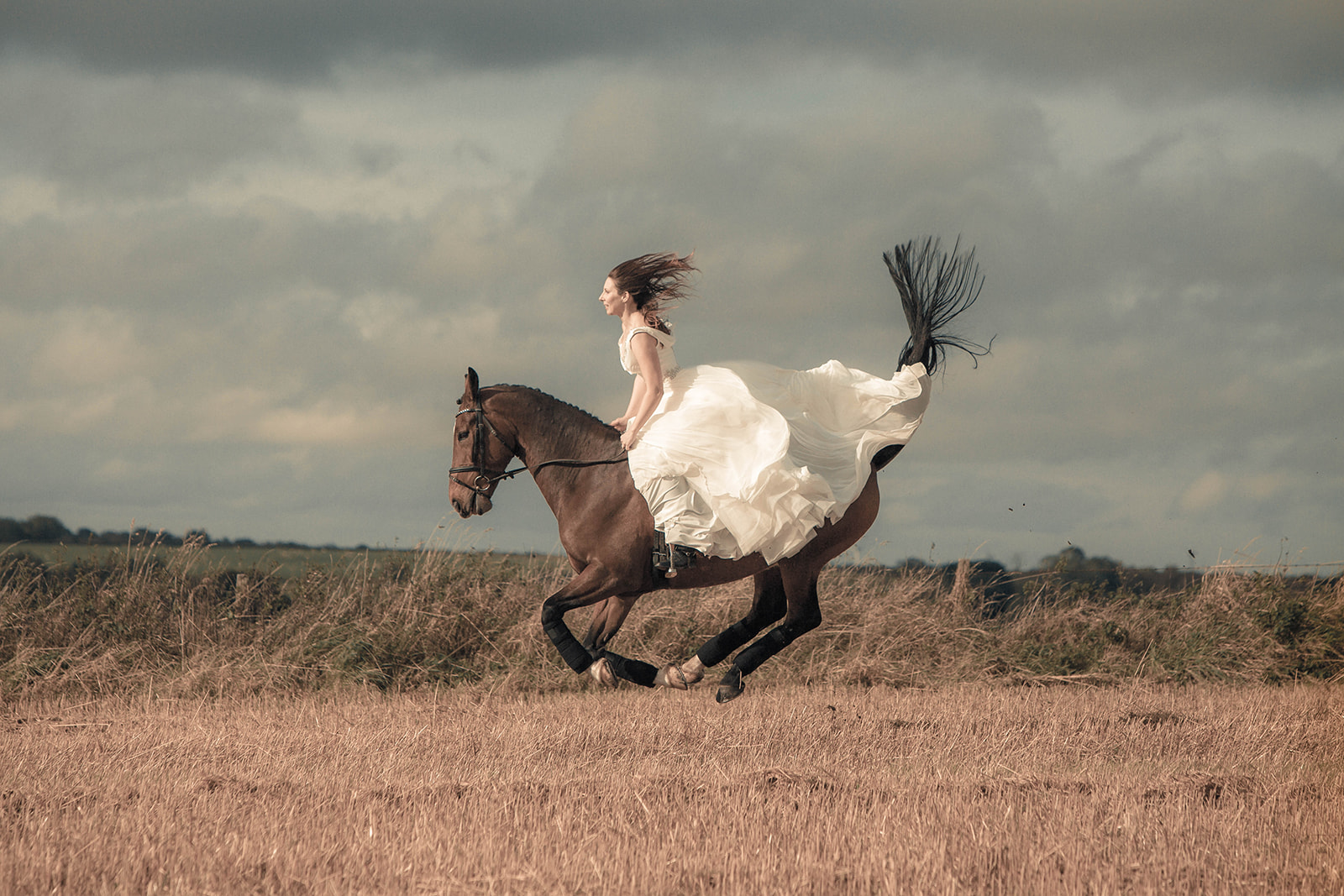 We've already established that Sam stayed with me and didn't get sold. As a 4-year old I started competing him and in his first outdoor season, he managed to win the regional championship in his class. That success continued through the levels and before we moved to Scotland we were competing at the Dutch equivalent of advanced medium dressage. Sam loved competing, always gave it his all, and has an impressive collection of ribbons to show for.
He now lives a very different lifestyle – changed days from the pampered dressage horse to a hairy happy hacker who loves living out 24/7.
Above is one of my all-time favourite photos of Sam and me. Taken by my friend and mentor Janie Barclay a few months after our wedding. This photo featured in a magazine and really sums Sam up perfectly – a fun-loving, cheeky, mostly sensible horse, who loves a good gallop and buck around stubble fields.
The next few photos are of Sam's career as a dressage horse, as well as photos of us taken by other professional photographers, along with those I have taken of Sam over the years, he's definitely got what we photographers call 'photographers child syndrome'… He's not very interested in having his photo taken at all, but with assistance and bribery, he can be convinced to stand and smile for a minute.
I hope you enjoyed seeing some of my favourite photos of my own and very special boy Sam. If you'd like to know more about my equine photo sessions please feel free to please get in touch. to arrange a complimentary consultation. I'd love to hear all about the special horse in your life.
Lots of Love
Iska
xx