Katie and James' lovely Gleneagles wedding
WEDDING PHOTOGRAPHY | ABERDEEN WEDDING PHOTOGRAPHER | ENGAGEMENT PHOTOGRAPHY SESSION
End of August I had the absolute pleasure to photograph Katie and James wedding at the stunning Gleneagles Hotel. What an amazing venue for a wedding!
Katie and James originally had a big wedding in Aberdeenshire planned, but like many other couples, they also had to adjust their plans and decided to go for a small and intimate wedding, saving the big party for next year. I'll stop talking now and let Katie tell you a little bit more about themselves and their special wedding day.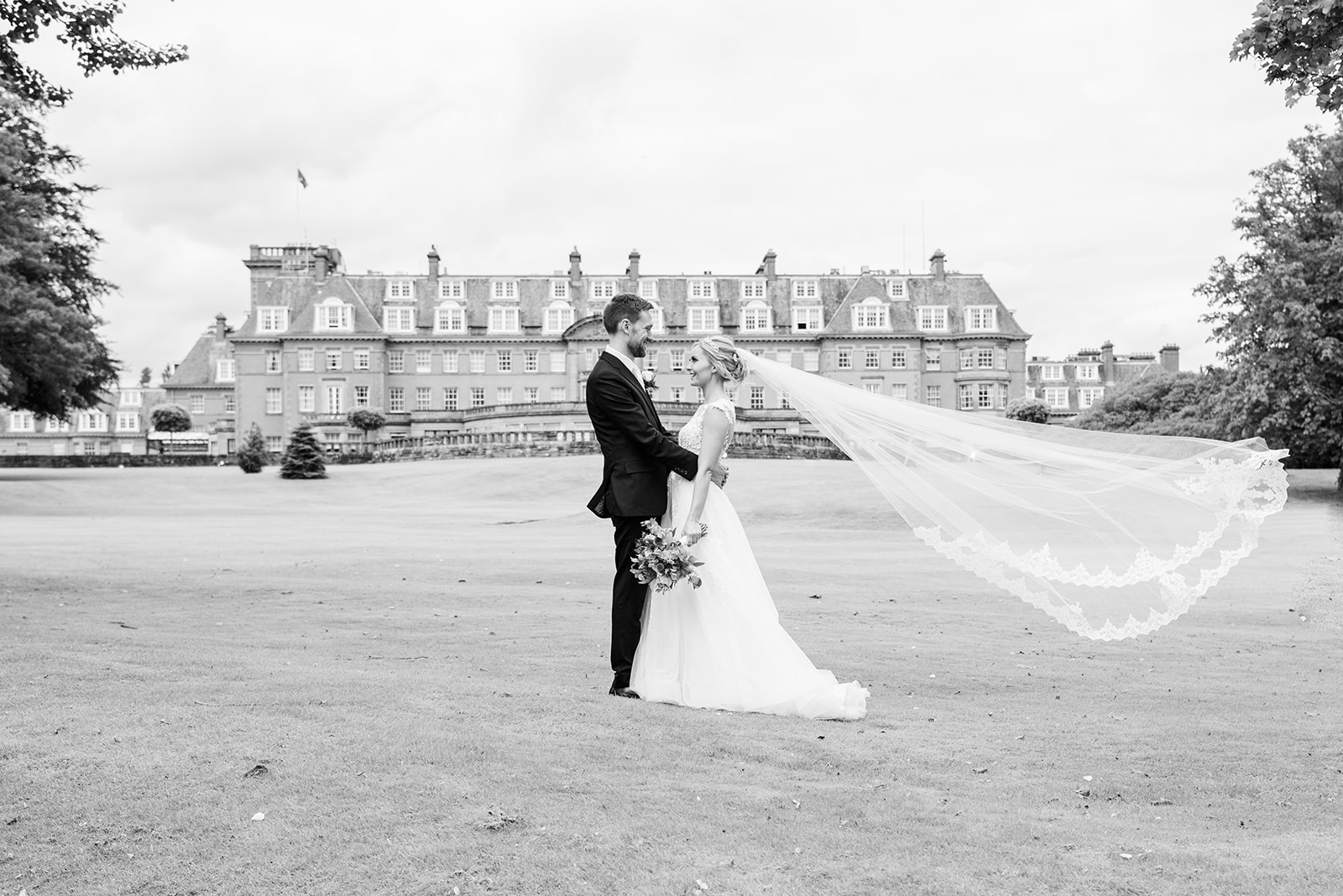 Q. How did you guys meet?
A. We met in London whilst studying our masters degree at UCL in 2015. After a whirlwind trip to Amsterdam the day after we met, we moved in together in 2016 and the rest is history. ????
Q. How did the proposal go?
A. James proposed at the top of Arthur's seat in Edinburgh followed by dinner at the Dome. We pretty much started planning straight after the engagement – March 2018.
Q. Where did you find the inspiration for your wedding day?
A. Inspiration came from Scotland and nature. A lot of our guests were from England and abroad so we wanted them to experience a Scottish castle wedding e.g. ceilidh, haggis, bagpipes. As a veggie and environmentalists, we also wanted to have a green, natural theme throughout the wedding to bring the outdoors, indoors (all of this will obviously have to wait till next year due to COVID but we still went with green flowers to be nice and natural!)
We changed our plans to a small and intimate wedding, we wanted it to be easy and as special as our original idea, hence going for Gleneagles, who were able to take care of everything for us in a beautiful venue.
Q. How did you choose your wedding suppliers?
A. Wedding suppliers were generally chosen through word of mouth and lots of research on Google and social media (reviews are a big persuader for me!).
Q. How did you personalise your wedding day?
A. Food, flowers and green theme in outfits for the small wedding. Hoping for the Scottish and nature theme for next year.
Q. What was the most stressful part when planning your wedding?
A. COVID! And keeping everyone happy.
Q. What is the one thing you'll never forget about your big day?
A. Seeing James waiting for me at the alter!
Q. Was it easy to jump back into regular life after your wedding?
A. We had a bit of time off to enjoy married life before starting back to normal life – we are on day 3 of normal life and we seem to be back to usual quite quickly!
Q. What advice would you give future brides and grooms?
A. Don't sweat the small stuff and make decisions for yourselves – everyone will enjoy the day regardless of the small details you put into the planning, so don't overthink everything and try to make everyone happy. It's your day!
I hope you enjoyed looking through these photos. If you'd like to know more about my wedding photography or engagement photography sessions please get in touch – I'd love to chat.
Lots of Love,
Iska xx