Keileigh and Cloudy's Haddo House dream shoot
YOUR DREAM PHOTO SHOOT
Thinking about a dream equine photo shoot with your horse?
Early September, I packed my gear and headed off to Haddo House to photograph Keileigh and her gorgeous horse Cloudy. Haddo House gave us so many choices for backgrounds, from a photographer's dream of a big country house, grass fields, stone walls, leafy woods, and country lanes.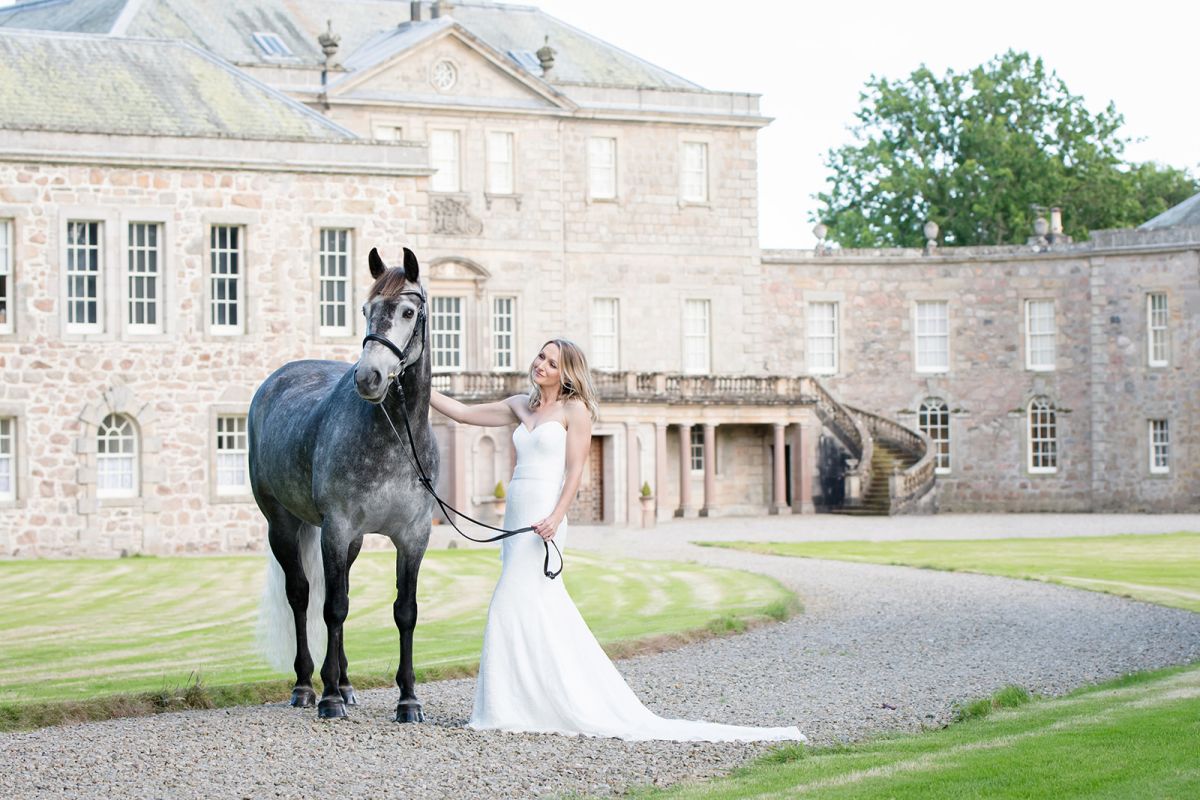 Keileigh and I first started speaking about their dream shoot photo session around this time last year, we originally planned a date in September 2019, but the weather put a stop to that, we tried to reschedule a couple of times, but once the colder October weather came in, we decided to leave until springtime and warmer temperatures. Unfortunately, that's when covid hit and we had to delay our session even further. We finally managed to get a date arranged and even better, the weather was kind to us as well.
During our pre-session consultation call, Keileigh and I spoke about a few different outfits and accessories, as well as locations around Haddo House and our plans and goals for the session.
Keileigh had a busy day, starting with a few hours at work, followed by a hair and makeup appointment with the very talented Diane Anderson Makeup Artist, she went for a beautiful natural look which suited her really well and complemented the outfits.
While Keileigh was getting her hair and makeup done, her mum Lesley was on Cloudy pampering duties. He looked absolutely spotless and beautiful. We then met in the car park at Haddo House and started to get ready for the session.
Cloudy was an absolute superstar throughout the nearly 3-hour session. He's not only a fantastic eventer, but also a very tolerant and patient model! I first met Cloudy and Keileigh 3 years ago at Cloudy's first Working Hunter competition, at which I was the event photographer. He did an amazing job for his first outing and went on to become a well-established and successful eventer.

The first outfit was a stunning wedding dress. The front of Haddo House was the perfect location for this outfit. We even took a veil along and added that in for a couple of photographs.
After we had gone through all of our ideas and poses for the wedding dress, we headed back to the car park, to get Keileigh changed into her second outfit.
A beautiful flowing pink dress with a lot of detail and a pair of gorgeous Fairfax boots. Our second location was the back of Haddo House and parts of the Country Park.
Our third and final outfit was a beautiful orange and brown western-style dress with an amazing cowboy hat – which arrived from the states just in time for the photo session. This outfit really needed a country location, we ventured along a couple of tracks around the Estate and found a lovely spot.
During our pre-session consultation, we also spoke about an idea that Keileigh had – she was keen on a photo of her and Cloudy, only wearing her Fairfax boots and the cowboy hat. I love creative ideas like that and got my thinking cap on for classy and tasteful ideas. We created a series of beautiful implied nude images (which are for her eyes only).
I hope you enjoyed looking through Keileigh and Cloudy's photos. If you'd like to know more about my equine dream shoots or any other photo sessions, please get in touch – I'd love to chat.
Lots of Love,
Iska xx