Successful BIPP Licentianteship Qualification
The official qualifying body for Professional Photographers in the UK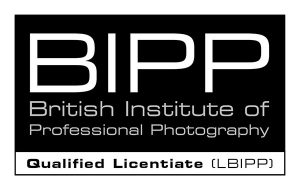 Very excited about my successful BIPP Licentiateship Qualification – so I thought I'd sound off and blow my own trumpet for a change!
I am very pleased to announce my successful BIPP Licentiateship Qualification for Professional Photography, awarded me in September 2019 by the British Institute of Professional Photography (BIPP).
The BIPP is the official qualifying body for Professional Photographers in the UK and their Qualifications, a recognised benchmark for excellence, are very difficult to obtain: I am extremely proud to have been successful on my first attempt, and will keep working as hard as I can to keep to the standards this qualification sets and demands – I'll continue to work hard towards the next level, Associateship.
The Qualification process involved the printed and digital submission of a 20 images' Portfolio for evaluation; the qualifying panel awarded me my Licentiateship based on these and the submission of a short biography, the portfolio images, examples of work where the photography was used, workflow examples, case studies and other supporting evidence (approx. 5000 words). It is a great way to finish off 2019 with such good news! I am looking forward to what 2020 has in store for me.